The 'Synagogue' Center is a museum and a modern cultural center functioning in the building of the Renaissance synagogue in Zamosc. The synagogue was restored by the Foundation for the Preservation of Jewish Heritage in
Poland
thanks to the support of
Iceland
,
Liechtenstein
and
Norway
within the framework of the EEA Financial Mechanism and the Norwegian Financial Mechanism. The Center was opened on April 5th, 2011. The President of the
Republic
of
Poland Bronislaw Komorowski
held honorary patronage over the opening ceremony.

Currently operating in the building of the 17th century synagogue is the
Multimedia
Museum
of the History of the Jews of Zamość and the Surrounding Area. Several exhibitions, lectures and concerts as well as seminars and academic conferences also take place there. Thanks to the existence of the 'Synagogue' Center visitors can learn about the history of the Jewish community which over several centuries took part in shaping the region's intellectual, religious and cultural identity. Part of the building has been adapted for the needs of local NGOs active in the area of
culture
. The synagogue also has a religious function, serving as a place of prayer to Jewish groups visiting Zamosc.
div>
More about the project >>


38. Zamość Meeting with Photography 2021-12-06
"Jump, Darling" at Queer Movie Night 2021-11-26
"Not a boy, not a girl" at Queer Movie Night 2021-11-19
Meeting with Tomek Sikora 2021-11-05
New article about our synagogue 2021-10-30
Zamość Remembrance March 2021-10-15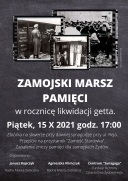 A march of remembrance for our neighbors, the Jews of Zamość.
The Zamość ghetto functioned from April 1941 due to a regulation issued by the Germans. It was located in the area of ​​Nowa Osada (around Nowy
more »

Living Library in Zamość! 2021-10-09

For the second time, our synagogue will host the Living Library, organized by the Lokalnie i Globalnie Association from Zamość.
On Saturday, October 9, 2021 at 10:00 am, we invite everyone to meetings and more »

"Deux" at Queer Movie Night 2021-10-08

On October 8, 2021 fourth meeting of the Queer Movie Night event series will take place at 7:00 PM in the FODŻ "Synagogue" Center.
We will watch the movie entitled "Deux", telling about the long-hidden feeling
more »

"Menorahs" - new art exhibition 2021-10-08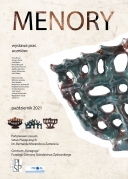 Bernardo Morando State High School of Fine Arts in Zamość and the "Synagogue" Center of the Foundation for the Preservation of Jewish Heritage in Poland are pleased to invite you to the "Menorahs" exhibition, which will be presented more »

35. Zamość Meeting with Photography 2021-10-01
1
|
2
|
3
|
4
|
5
|
6
|
7
|
8
|
9
|
10
|
11
|
12
|
13
|
14
|
15
|
16
|
17
|
18
|
19
|
20
|
21
|
22
|
23
|
24
|
25
|
26
|
27
|
28
|
29