Unveiling of a memorial tablet commemorating the Jewish cemetery in Czluchow 2007-12-31
Synagogue in Wrzeszcz 2007-12-31
Jewish cemetery in Sopot 2007-12-31
Jewish cemetery in Gdansk 2007-12-31
Great Synagogue in Gdansk 2007-12-31
A meeting in Pluskowesy 2007-12-29
Meeting the Jewish Cuisine in Pluskowesy part 2- making the carrot Tzimes 2007-12-29

Second part of our culinary adventure.
more »

Meeting the Jewish cuisine in Pluskowesy - part 1- baking the Matzah 2007-12-29
Interview with Mrs Genowefa Dejewska - Middle School in Pluskowesy 2007-12-29
Places of martyrdom of the Jewish woman in the surroundings of Pluskowesy 2007-12-28

The inhabitants of the village of Bocienia Dzwiezna still remember the places of martyrdom of Jewish women prisoners. The students of the Middle School in Pluskowesy gathered their relations.
more »

Students of the School Complex in Kielce at work 2007-12-28

We are documenting our progress.
more »

School contest in Middle School No.94 in Warsaw 2007-12-28
Regional training in Zawiercie 2007-12-27
Interview with... part 2. Primary School in Miedzna 2007-12-23
Bus of Unity - 6th High School in Gdansk 2007-12-21
Students of 6th High School in Gdansk clean up the local Jewish cemetery 2007-12-21

Cleaning of the Jewish cemetery in Gdansk, September 30, 2007.
more »

A trip to the Jewish Historical Institute in Warsaw - Primary School in Miedzna 2007-12-20
Byczyna- cleanup of the Jewish cemetery 2007-12-19
Cleaning up of the Jewish cemetery in Sobkowo 2007-12-19
About multiculturality in front of a TV camera in Czerwionka-Leszczyny 2007-12-16

On October 25, 2007, we had a pleasure of welcoming a TV crew from TVP Wroclaw in our Middle School in Czerwionka. Our town was the third place- following Bedzin and Katowice- to be visited by TV reporters preparing material for the "Kowalski and Schmidt" TV program.
more »

Interview with... Primary School in Miedzna 2007-12-15
Festival on Barlickiego Street in Opole 2007-12-14
Synagogue in Opole 2007-12-14

The synagogue building was standing at Lindenstrasse, today Barlickiego Street, right in front of our school, located on the other side of the street. .
more »

Independence Day Celebration in Middle School No.1 in Piastow 2007-12-12
Tolerance workshops in the Primary School in Miedzna 2007-12-12
Charity poster made by the students of Building School Complex in Wroclaw 2007-12-12
Shabbat evening in Szczekociny 2007-12-12

On November 23, 2007, we managed to realize one more of our planned tasks: o this day Mr Jaroslaw Banys, President of Or Chaim Foundation from Katowice (a joint venture of Catholics, Evangelics and Jews, whose aim is to save the monuments of Jewish culture). Mr Banys carried out a workhop, during which our students learned about Jewish traditions, customs and holidays.
more »

Students of School Complex No.2 in Debica in "To Bring Memory Back" program 2007-12-12
Interview with Mrs Zbikowska 2007-12-11
Religion class in High School in School Complex in Brody 2007-12-10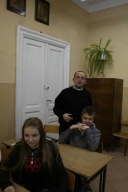 Religion class preceding our meeting with Cardinal Stanislaw Dziwisz.


more »

Students of Brody School Complex meet Cardinal Priest Stanislaw Dziwisz 2007-12-10
Shabbat in the Primary School in Miedzna 2007-12-07

How to prepare the Shabbat holy day, which activities are prohibited and which are allowed, what dishes one has to make in advance... That (and not only) was the subject of our discussion during last meeting.
more »

Jewish cemetery in Chelmza 2007-12-05

Jewish cemetery in Chelmza was established at the end of the 18th century. Buried here lay the Jewish inhabitants of the town. 30-40 years ago the remains of the cemetery were still visible, but due to the lack of interest from the part of the inhabitants, and from the town officials, the place was completely devastated. But even without a single trace of burials the cemetery grounds remain an important place for Christians and a sacred place for Jews; it deserves our respect.
One of our most important goals is to place a memorial stone at the cemetery grounds; by this way we would like to commemorate the Jewish inhabitants of our town.
more »

Yiddish Film Art Festival in Lodz 2007-12-04
Regional training in Lodz 2007-12-04
Students from Lodz clean up the local Jewish cemetery 2007-12-04
Regional training in Czerwionka-Leszczyny 2007-12-03
Regional training in Poznan 2007-12-01
Janusz Korczak Night in Miedzna 2007-12-01
Interview with Mr Lech Gorecki conducted by the students from Pluskowesy 2007-12-01