The 'Synagogue' Center is a museum and a modern cultural center functioning in the building of the Renaissance synagogue in Zamosc. The synagogue was restored by the Foundation for the Preservation of Jewish Heritage in
Poland
thanks to the support of
Iceland
,
Liechtenstein
and
Norway
within the framework of the EEA Financial Mechanism and the Norwegian Financial Mechanism. The Center was opened on April 5th, 2011. The President of the
Republic
of
Poland Bronislaw Komorowski
held honorary patronage over the opening ceremony.

Currently operating in the building of the 17th century synagogue is the
Multimedia
Museum
of the History of the Jews of Zamość and the Surrounding Area. Several exhibitions, lectures and concerts as well as seminars and academic conferences also take place there. Thanks to the existence of the 'Synagogue' Center visitors can learn about the history of the Jewish community which over several centuries took part in shaping the region's intellectual, religious and cultural identity. Part of the building has been adapted for the needs of local NGOs active in the area of
culture
. The synagogue also has a religious function, serving as a place of prayer to Jewish groups visiting Zamosc.
div>
More about the project >>


Exhibition by Judith Aizen 2019-01-07
Zamość reading of the stage by Icchok Lejb Perec 2018-11-22
Genius of the borderlands - exhibition 2018-11-09
Workshop for students 2018-11-07
Lesson of painting differently... 2018-10-19
Marek Sołowiej's art exhibition 2018-10-01
Workshop at the "Synagogue" Center 2018-08-24
Survived music - concert at The Synagogue Centre 2018-08-05

"Survived music" - a concert dedicated to composers of Jewish origin.
The Foundation for the Preservation of Jewish Heritage in Poland and The Polonia Music Art more »

Exhibition by Judith Aizen 2018-07-01
"Zamość - the Pearl of the Renaissance" exhibition 2018-06-08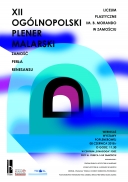 The exhibition of the 12th National Plein-air Painting "Zamość - the Pearl of the Renaissance" will be presented from June 8th, 2018 at the "Synagogue" Center. The event is organized by the Bernardo Morando Fine Arts High School in Zamość.
The painting more »

1
|
2
|
3
|
4
|
5
|
6
|
7
|
8
|
9
|
10
|
11
|
12
|
13
|
14
|
15
|
16
|
17
|
18
|
19
|
20
|
21
|
22
|
23
|
24
|
25
|
26
|
27
|
28