SIEMIATYCZE 2006-12-19
We are pleased to inform you that the building of the pre-war Jewish religious school in Siemiatycze, was leased by the Foundation for the Preservation of Jewish Heritage in Poland to a local association supporting education and labor market development (
Stowarzyszenie Wspierania more »

CHELM 2006-12-18
The "Miasteczko" Association (one of the partners of the Foundation for the Preservation of Jewish Heritage in
Poland
in the
Chassidic Route
project) invites for a television coverage about a concert of Ida Haendel, a world more »

GDANSK 2006-12-18
We are pleased to inform you that the
Gdansk
branch of the Union of Jewish Communities, together with the Heritage Foundation for Preservation of Jewish Cemeteries (with which the Foundation for the Preservation of Jewish Heritage in Poland completed more »

LOSICE 2006-12-18
We are glad to announce to you the latest update to the website devoted to the Losice Jewish cemetery:
www.zchor.org/losice/losice.htm
- We Remember Jewish Losice. It is the testimony of Eddie Weinstein, one chapter taken from his book,
Quenched more »

BRZEZINY 2006-12-14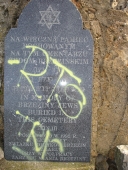 Monument commemorating the Jews of Brzeziny (lodzkie province) was devastated by vandals. On the plaque devoted to the Holocaust's victims a racist graffiti had appeared.

The Jewish cemetery in Brzeziny (
Reymont St.
) was probably established more »

TOMASZOW MAZOWIECKI 2006-12-12
We are sorry to inform about a devastation of a 19th century Jewish cemetery in Tomaszow Mazowiecki (lodzkie province). Anti-semitic graffiti and swastikas appeared on many of the matzevot.

FRAMPOL 2006-12-07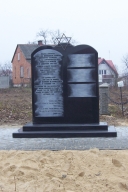 The works at the Jewish cemetery in Frampol (lubelskie province), lead by the Foundation for the Preservation of Jewish Heritage in
Poland
thanks to the support of the Council for the Protection of Memory of Combat and Martyrdom, are almost finished. On the Foundation's more »