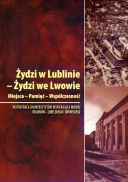 We gladly inform that a set of session materials
"Jews in Lublin - Jews in Lviv. Places - Memory - Present Day"
by J. Zetar, E. Zurek and S.J. Zurek was just published by the Catholic University of Lublin. We invite you to read one of the published texts: "
more »