WYSOKIE MAZOWIECKIE 2006-11-24
WROCLAW 2006-11-24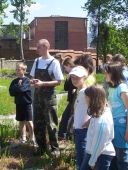 On
November 15, 2006
, Foundation for the Preservation of Jewish Heritage in
Poland
offered Mr. Tomasz Jamrog as a candidate for the Best Volunteer of the Lower Silesia Award, confered by the
Lower Silesia
province more »

LUBLIN 2006-11-24
On
November 21-22, 2006
, a 4th International Conference "Jews in
Lublin
. Jews in Lviv. Places – Memory – the Present Day" took place in
Lublin
. The conference was organized by Polish-Jewish more »

RZESZÓW 2006-11-24

On
November 20, 2006
, candles were lit by a monument commemorating the Rzeszow Jews. The candles were arranged in the shape of Magen David. The event was initiated by Mr.
Mirosław Kedzior and Mr. Janusz Korbecki.more »

WYSOKIE MAZOWIECKIE 2006-11-23
We are honored to present a letter by Mr. Marvin Brooks, read at the ceremony finalizing the first stage of the Wysokie Mazowiecie Jewish cemetery restoration project.
Dear Major, Town Officials, Residents and Students of
Wysokie Mazowieckie
, more »

IZBICA 2006-11-16
WROCŁAW 2006-11-15
The celebration of anniversary of the "Crystal Night", organized in
Wroclaw
on the 9th of November by the Bente Kahan Foundation was disturbed by the members of the National Rebirth of Poland. After the ceremony, which took place at the White Stork more »

THE FIFTIETH SCHOOL IN THE "TO BRING MEMORY BACK" PROGRAM 2006-11-14
USTRZYKI DOLNE 2006-11-13

On the 30th of October the members of the "Bieszczady" Tourist Society from Ustrzyki Dolne have officially opened a tourist route leading from the center of Ustrzyki Dolne to the Jewish cemetery. The ceremony was accompanied by the opening of an exhibition dedicated to the more »

SLUPSK. CRYSTAL NIGHT ANNIVERSARY 2006-11-09
Foundation for the Preservation of Jewish Heritage in Poland, together with the President of the City of Slupsk, have the honor to invite for the anniversary of the tragic events of the Crystal Night, which will take place in Slupsk on November 9, 2006.
more »

BIŁGORAJ 2006-11-09

On the 5th of November a ceremony of the burial of the destroyed Torah scrolls took place at the cemetery in Biłgoraj. The scrolls were found during the renovation of a local building. At the ceremony were present the representants of local authorities, US Embassy, and the Foundation more »

RYMANÓW 2006-11-09

We cordially invite you to see the pictures of the Jewish cemetery in Rymanów, cleaned by the "Meeting Rymanów" Society in cooperation with the Foundation for the Preservation of Jewish Heritage in Poland. Below is the text sent to us by the Society.
On 27th of October the
more »

NAREWKA 2006-11-06