SHANA TOVA! 2016-09-30

On Rosh HaShana we wish you all good and sweet New Year 5777! May we all be inscribed in the Boook of Life!

We also would like to inform you that our office will be closed on October 24 and 25.

STRZEGOM 2016-09-30
On September 16, 2016, the students and teachers of the School Complex in Strzegom as usually took part in the "Clean Up The World" action by carrying out cleanup works on the local Jewish cemetery. The school's long time involvement was awarded last year with the "Laurel more »

ISRAEL 2016-09-28

It is with deep sadness that we learned about the passing of Shimon Peres (1923-2016), President of Israel in the years 2007-2014, Prime Minister of Israel and Interim Prime Minister, member of 12 cabinets and member of the Knesset for nearly 50 years, Nobel Peace Prize more »

SWIDNICA 2016-09-23

Students of the 4th Middle High School in Swidnica again cleaned up the local Jewish cemetery, as they do every year.
We cordially thank all teachers and students involved!

SOKOLOW PODLASKI 2016-09-22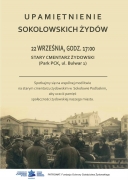 Foundation for the Preservation of Jewish Heritage in Poland took under patronage an initiative commemorating Jews of Sokolow Podlaski. Within its framework, on September 22, 2015, representatives of the Catholic Church and Jewish community prayed together more »

SWIDNICA 2016-09-19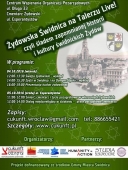 Our Foundation is a partner of "The Trace of Forgotten Jewish Culture in Swidnica" event, which will take place between October 4-5, 2016 in Swidnica. The event is being organized by the Cukunft Jewish Association with the support of the Municipality of Swidnica and Humanity more »

GORZOW WLKP 2016-09-08
JELENIEWO 2016-09-06

In cooperation with the Foundation for the Preservation of Jewish Heritage in Poland cleanup works were carried out in September 2016 at the Jewish cemetery in Jeleniewo. This action was made possible by the financial support of Mr. Herman Storick of New York, USA.
The last burial
more »

MYSZYNIEC 2016-09-02