LELÓW 2017-07-28
Our Foundation is partner of the 15th
edition of the Jewish Culture Festival in Lelow, which will take place on August 18-20, 2017. The event is being organized by the Town Office of Lelow www.lelow.pl.

RADOM 2017-07-17
Our Foundation is partner of the 9th edition of the Meetings with Jewish Culture "Ślad (Trace)", which will take place between August 3-6, 2017 in Radom. The event is being organized by the Resusca Obywatelska Art and Culture Center in Radom.

We cordially invite more »

DYNOW 2017-07-12
RZESZÓW 2017-07-09

Our Foundation was one of the partners of the March of Memory, commemorating thousands of Jews from Rzeszow who were sent to the death camps in July 1942. The event took place on July 9, 2017, at 2 pm. On the 75th anniversary of the liquidation of Rzeszow ghetto, the participants more »

NOWY ZMIGROD 2017-07-06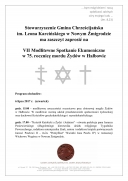 On July 6, 2017, on the 75th anniversary of murder of Jews of Nowy Zmigrod by the German Nazis, the Leon Karcinski Christian Community Society of Nowy Zmigrod organized the 7th Ecumenical Prayer Meeting at the mass grave in Halbow.
more »